Dr.Kathleen Bartos
Owner/Medical Director
Kathleen D. Bartos M.S., D.V.M. opened HVC in July 1990. She received her B.S. degree in zoology from Duke University and her M.S. in veterinary physiology from the University of Florida before attending veterinary school. She completed her Doctor of Veterinary Medicine (D.V.M.) degree at the University of Florida in 1986. She studied veterinary acupuncture with Dr. Shen Xie at the Chi Institute in Gainesville, FL, is certified in therapeutic laser and stem cell therapies, and is a member of the International Veterinary Academy of Pain Management. She is also an active member of the American, Florida and Volusia/Flagler Veterinary Medical Associations. Dr. Bartos and her husband enjoy spending time with their dog Abby (Labrador Retriever) and their cats Kira (Domestic Shorthair), Monsta (Domestic Shorthair), Dax (Siamese), and #1 (Domestic Shorthair).
Dr.Gabriel Abreu
Associate Veterinarian
Gabe Abreu, DVM completed his Doctor of Veterinary Medicine (D.V.M.) degree at the Ross University in September 2019. He studied veterinary acupuncture at the Chi Institute in Gainesville, FL, and is trained in canine rehabilitation through the University of Tennessee. Dr. Abreu is Fear Free Certified and speaks English and Spanish fluently, and has a basic knowledge of American Sign Language. Dr. Abreu has three dogs Amelia, Dean, and Oliver (all Australian Shepherds).
Sue
Practice Manager
Sue started as a client at HVC in 2013 and was pulled from an exam room and made a Client Services Representative in 2015. After a couple of years as Lead Client Services Representative and Office Manager, she became the Practice Manager in May 2018. Sue came to us from New Jersey, where she worked 30 years in the legal field. She loves cats and 'dawgs,' especially hers, Max (Golden Doodle) and Scar (Husky Mix).
Stephanie
Office Manager
Stephanie joined our technical staff with over 10 years of experience. She is very skilled and knowledgeable. Stephanie loves to help educate clients and can often be found returning client phone calls. Stephanie makes us laugh every day! She and her family own a dog named Max (American Pit Bull), Violet (French Bulldog), two cats, Tom and Jerry (both Domestic Shorthairs), as well as some goats.
Val
Inventory Manager/Client Services Representative
Val has been at HVC since July of 2009. She started as a receptionist and is now the Inventory Manager. She has also been a client of the practice since February 1991. Val is mom to two cats, Mischief and Poppet (both Siamese Mixes), who keep her on her toes.
Kayla
Veterinary Technician
Kayla joined HVC on her second day living in Florida. She's been a Veterinary Technician for many years in Illinois. She and her husband have three dogs, Mary Jane (Miniature Pinscher/Chihuahua Mix), ZuZu (Australian Shepherd/Husky Mix), and Langston (American Pit Bull).
Angela
Veterinary Technician
Angela and her husband moved to Volusia County from the Chicago area, where they attended college. Angela has a B.S. in Biology and is planning on becoming a veterinarian in the future. She is a furmom to Aurora, a sibling of our clinic cat Scotty (Domestic Shorthair) and Ashur (Domestic Shorthair), who she adopted from a litter a client brought in as newborns.
Nikki
Veterinary Technician
Nikki has been a technician at HVC since 2013. She is a fantastic tech and has a wonderful smile. Nikki is a highly knowledgeable and skilled Veterinary Technician. Nikki will rescue any animal she finds who needs rescuing. Nikki is currently a servant and landlord to her dog Drake (Rottweiler) and Snake Venus.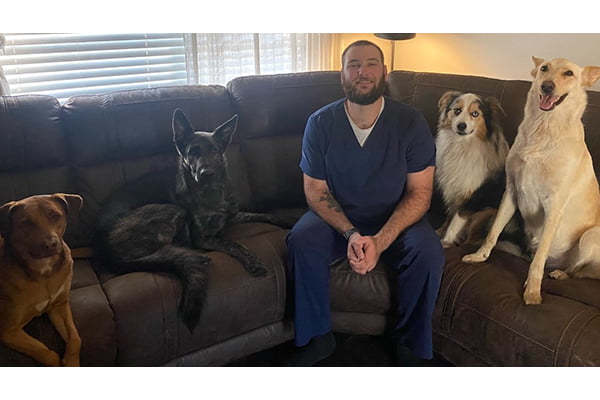 Nick
Veterinary Assistant
Nick has lived in Central Florida his whole life and has worked with animals for 10 years. As a Veterinary Assistant with HVC, Nick is excited for the opportunity to be trained a vet tech. Outside of work he enjoys spending time with his wife and their four dogs Sadie, Whiskey, Hank, and Colt. They are expecting their first child in October.
Lily
Client Services Representative
Lily is our part-time Client Services Representative. She joined our team in June 2018 and is always willing to help our clients and love our patients. If you are admitting your pet for treatment, be sure to tell him or her that Lily will become his or her best friend. Lily has two dogs, Max (Golden Doodle) and Scar (Husky Mix).
Marylou
Administrative Assistant/Client Services Representative
Marylou was Dr. Bartos' first employee at HVC. She can work almost any position in the hospital, except Veterinarian, of course. You have probably received a phone call or mail from Marylou to let you know your pet is due for services. Marylou is mom to Baby Girl (Rottweiler) and Puppy (Domestic Shorthair).
Heather
Client Services Representative
Heather came to HVC with many years of client services experience, with four years being in the pet industry. She is a Volusia County native. Heather keeps us laughing with her ``Heatherisms`` and is known to break out into song at times. She is fur mom to Milo and PeeWee (Toy Rat Terriers who are brothers).
Pam
Client Services Representative
You may recognize Pam from years ago. Pam was a CSR with us a while back but left when her second grandchild was born so she could babysit him. Well, time flies! Her grandson is now old enough to attend school, so Pam is back! Before working for us years ago, Pam had many years of experience in the veterinary field. She and her husband live in Mims with their two cats Taz and Harry (both Domestic Shorthairs) and a flock of chickens.
Kate
Client Services Representative
Kate has been a client of HVC for ten years, so when she left her teaching career, she transitioned to a veterinary role quickly. She taught in Volusia County for 11 years and loved her students, but she enjoys working to help animals and their owners. Kate, her husband, and two sons live in Port Orange with three dogs Buddy (mixed breed), Copper (Pointer Mix), Radar (Chihuahua Mix), a cat Sarina (Domestic Shorthair), and a Guinea Pig named Pepe.
Kim
Client Services Representative
Kim joined HVC with many years of CSR experience in the veterinary industry in Pennsylvania. She works part-time and spends the rest of her time with her two young daughters and husband. They live locally with their dog Spot (Tree Walker Coonhound), 4 Parakeets, a Cockatiel, a Leopard Gecco, and some chickens.
Julianne
Hospital Assistant
Julianne joined us in 2020. Whether your pet is admitted to our hospital for a wellness service, grooming, or for illness, Julianne will be sure his or her stay is as comfortable as possible. She makes sure all our patients are walked and have freshwater, and is tasked with keeping our Hospital clean. Julianne is a Connecticut native who lives in Port Orange. She would rescue every special need or senior pet if dog if she was able. She and her family are owned by three Westies, Bean Town, Fenway, and Tatum.
Kimie
Hospital Assistant
Kimie joined us in the Summer of 2021, bringing many years of experience in veterinary assisting from both veterinary clinics and shelters. Born in Japan, Kimie has now lived in America longer than she did in Japan. She and her family live in Volusia County with their five cats, Can't See (black Domestic Shorthair), jValentine (Domestic Shorthair), Skippy (Tabby), JuJuBee (Siamese Mix), and Champagne (Domestic Medium Hair).
Mindy
Groomer
Mindy joined HVC as a Veterinary Technician in 2013. She came to us with 20 years of technician and grooming experience. After a few years with us, she left her responsibilities as a tech and became our Groomer! We don't want to brag about how good she is, but....she is typically booked out for two months. She spends a lot of time with your pet and puts them at ease. She is referred by other groomers in the area for some of their ``not so groom friendly clients`` and is careful and caring with each of them. If your pet needs sedation to be groomed, let us know when scheduling your appointment. Your pet can have an exam with one of our doctors and, if found to be healthy enough, the doctor can sedate your pet for Mindy to groom. She and her family have a little 5-pound dog named Moxxi (Yorkie Mix) and two cats, Alice and Castiel (Domestic Shorthairs) who are siblings of our clinic cat Scotty and another staff member's cat.
Trip
Clinic Cat
Trip came to us as a kitten in March 2011. Even though he keeps us all on our toes, he loves to have his big belly rubbed and to share our lunches. He is also often found sleeping in our pharmacy inbox! He was named after Star Trek Enterprise's Chief Engineer Charles 'Trip' Tucker III since we all think he's out of this world!
Scotty
Clinic Cat
Scotty was born in April of 2020. He was brought in with his litter mates at just a few weeks old. He was picked from the litter to be an HVC clinic cat. His littermates were all adopted by HVC staff members. He is named after the Star Trek Lieutenant Commander Montgomery 'Scotty' Scott. We know he will live long and prosper!
Sisko
Clinic Cat
2007-2020
Sulu
Clinic Cat
Sulu was brought to us in November 2021 by clients whose neighbors heard a sound coming from their car engine on a trip from Jacksonville. This little guy was about 8 weeks old when he took that harrowing car ride. Not one, but ALL, of our staff asked Dr. Bartos if we could keep him. Dr. Bartos, being the cat lover and generous boss that she is, of course said YES! He is named after Hikaru Kato Sulu, a physicist in the Enterprise's Astro Science Department.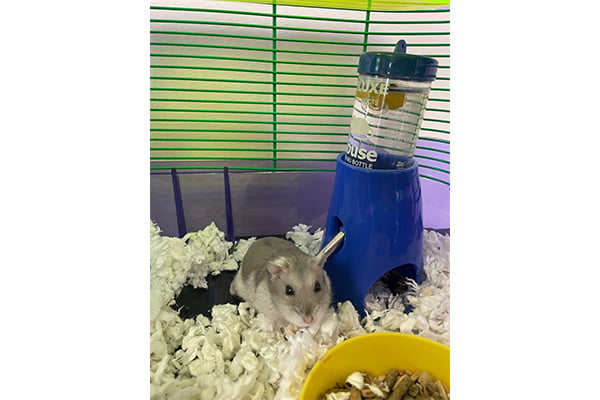 Hammy
Clinic Hamster
Hammy belonged to one of our staff members. Her young son rescued him from a pet store, but being a little kid he eventually decided Hammy should live at ``Mommy's work`` while we were curbside in 2020, so the ladies up front wouldn't be lonely. So, Hammy spends her time in our reception area getting a lot of attention.
Cupid
Clinic Guinea Pig
Cupid belonged to one of our staff members and came to live with us on Valentine's Day in 2022. He has a giant cage in our reception area and is fun for our staff and clients to watch. He makes the cutest little noises when we hold him as he snuggles up to us.